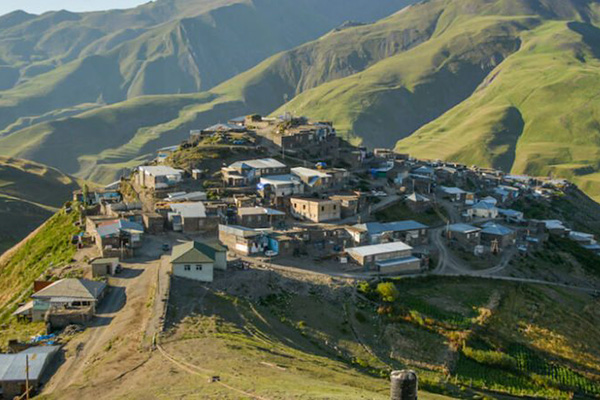 As every town of Azerbaijan Guba is a fantastic place to live and visit. It is one of the leading tourist centers of Azerbaijan which situates in the northern part of the country. Guba is a town which serves for trade for people. These are people who live near the mountains, and they use their home as a guest house for tourists. Even Guba is distinguishing town of Azerbaijan because of the small Jewish population. Guba sightseeing is famous for apple orchards. If you go to the city, you will fall in love with it.  Besides farms, Guba sightseeing is well known for its carpets. Guba is located on a cliff top, and it overlooks a river which is Qudiyalchay. The town was founded in the 18th century. It was a capital at those times. People, especially visitors who are the first time in Azerbaijan, they choose to come to Guba or any other towns because of nature. The beauty of, as well as fresh and clean air, shows itself in this town as well. The climate is excellent, and it is fresh in summer.  Many historic buildings are attractive for first-time visitors.
Deeper information about Guba
Guba city is famous in different places like traditional ones. The city is the capital of the district which is in the same name. There is a Jew community in the 'Qirmizi Qesebe' which is the most significant population of Jews. This place is called Red Town in English.  This district is the place for the largest Jewish community. There is a Juma mosque here in Guba town. It is a historical place and considered as one of the Guba sightseeing for visitors. This mosque has a specific style, and it belongs to this town. The mosque erected in the 19th century has a large inside which is 16 m. There is a Hamam that is ancient and interesting to visit. This Hamam is unique, and it is not far from the Juma mosque.  It is no longer operating as Hamam but foreigners, even local people of Azerbaijan visit there as to walk around. Another mosque which is worth to see is Sakina Khanum Mosque. This mosque that built in 1854 constructed with the help of red bricks by Abbasgulu Bakikhanov.
Guba Memorial Complex
Guba Memorial Complex belongs to the 1918 Genocide and is one of the interesting which will give you an emotionally sad and beautiful experience.  The reason for this Guba sightseeing is due to the genocide, which stems from the name as well. There are many skulls as well as human bones from this genocide appear in this complex. If you go to see this complex, make sure to prepare mentally as well as emotionally for it. It is because they are the real facts of the genocide. There is a mass grave site.  It was found accidentally when there was a reconstruction for the stadium. It was in 2007.
Qirmizi Qesebe ( Red Town)
This district is one of the central regions of Guba. It is called Red Town. It is a wealthy village. Most of the population are Jewish, so it is almost named as a Jewish village. There are two synagogues in the communities which are active.  You will not be regret if you go to this district. It is very interesting place to see from the journey of Guba sightseeing.
Nizami Park
Nizami Park is different than any other park in the town. It has a different natural vibe that makes it unique than others.  If you go to this park, you will see many people walking in the park a playing dominos or other games under the enormous trees, which is a great way to enjoy nature.  That is why don't forget to include Nizami national park which is situated in Guba to your list. If you get a chance to visit there as part of the Guba sightseeing, make sure to spend time beneath chestnut and plane trees.
Chaygoshan
Guba is a fantastic place to visit, especially for nature lovers. But the only adverse is to locate in the area where you should go through narrow roads to reach this town. When you go to Chaygoshan, which is an exciting place for enjoying the day, make sure to be prepared for the arduous travel to this place. It is because of the narrow canyon from 34.5 km, and after 2 km it changes into the deserted area. Here you can have a picnic with your loved ones and spend a fantastic time in a valley. There is a spooky village called Qriz. You can go there with a bridge across the river.
History Museum
There are a lot of museums in Baku, but it is only limited to our capital city. So dont worry you have a chance to visit one of the most exciting and impressive museums in Guba which is the History Museum. It is a new regional museum and exhibits various things from those periods. Different pots, swords are all shown in the museum. Most of them are from the Bronze Age even there are some jewelry as well as carpets, which is the description of women's role in those times.  There is no need to be worried about the language because there is a guy who speaks English and give information to visitors who came from different countries. So in this way you can enjoy the day from this Guba sightseeing.