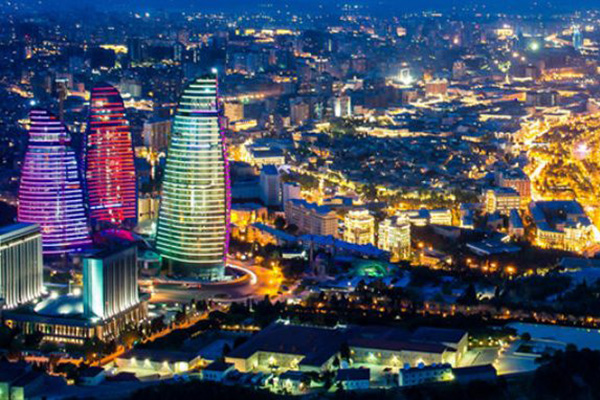 Is Azerbaijan still Europe or is it already Asia? If the question is relevant to you, feel free to assume that you have not been to this country yet. The travelers, who have already seen Azerbaijan, no longer ask them – not because they have found the answer, they just have completely different priorities. For example, how else to go here and another, and where else to go here. But still, all the same: Europe or Asia? The answer to the orthodox geographer: "Front Asia" is as accurate as it is useless. Actually, Azerbaijan is Azerbaijan. This is Old Baku, where all the Turkish scenes of the Diamond Hand were shot (it is the same now, neither Istanbul), and pictures of Baku's streets, especially the evening ones, can quickly be taken for Central European.  These are beautifully preserved Zoroastrian temples, which are older than many world religions. These are 40 recipes of authentic Azerbaijani plov, which we rightfully put in one paragraph with history and culture: firstly, this is also history and also culture, and even what, and, secondly, how tasty it is here!
And, of course, Azerbaijan is oil. Lots of oil. And not only the one "for the barrel," but also the famous healing one, to which the third century in a row goes to Naftalan.
Here is some advice about what things to do and not to do in Azerbaijan.
In Azerbaijan, everything is expensive. And the exchange rate (today), and prices are generally high. Be prepared for this.

Before visiting Azerbaijan, it is not recommended to visit Nagorno-Karabakh. There may be problems both at the entrance to Azerbaijan and at the exit.

If you visited Armenia shortly before your visit to Azerbaijan, also be prepared for asking various uncomfortable questions on the border of Azerbaijan (are there any relatives in Armenia? For what purpose did you go there? Where were you? Who did you chat with?)
This is because 2 states are actually in a state of war. Therefore, official contacts with citizens of Armenia are not allowed. Although at the household level, two people communicate.
If you are traveling to Azerbaijan from Georgia, then it is more convenient to cross the border through the town of Lagodekhi since it is located on the highway Tbilisi-Baku.

It is better to take care of housing in Baku in advance since there are no hostels there. And options for renting apartments for rent start from 50 manats per night. One manat – about 1 dollar at the rate. Hotels in about the same price category. Either negotiate with friends and acquaintances to stay with them or use CouchSurfing. Well, just in case of emergency – at the station in the waiting room.

One night you can just walk around Baku. Especially in summer. Night Baku is lovely, and sunrise can be found on the embankment of the Caspian Sea. However, I recommend taking a windbreaker or light jacket with you (in the morning a strong wind happens on the shore).

Not far from Baku there is Gobustan village. There are mud volcanoes. There are not many places on the planet where you can look at this miracle. One of these places is in Azerbaijan. Moreover, people even bathe in large volcanoes.

A beautiful view of Baku opens from the pier on the Caspian Embankment. You can admire both the evening city and at dawn or night.

Not recommended at night in the government quarter to attract the attention of guards-machine gunners. They are nervous when they try to photograph the buildings they are protecting.

Swimming in the Caspian Sea is better outside the city of Baku. Good beaches – country.

Interest in Azerbaijan is still the city of Sheki. It is located 250 km from Baku. There is a regular bus. The fare is 7 manat. In Sheki, it is worth trying the famous Sheki halva, which is not done anywhere else. There are no problems with this – it is offered at every turn. However, the filling there may be different in this halva nut filling. And in the desire to save sellers may offer halvah filled with seeds. Ask what the mixture.

Also in Sheki, it is worth trying the piti or pite dish (emphasis on the last syllable). This is an Azerbaijani national dish, but Sheki is famous for it. Those who do not like fat do not eat.
And those who decide, it is recommended to take more hot tea. It is better to drink this dish with hot tea, as mutton fat quickly thickens, and a hot drink will slow down this process.
In no case, do not drink cold after eating piti.
Also, the historical part of the city is unusual in Sheki. Where the caravanserai and han-shed. The entrance to the caravanserai is free, and there is a tea room inside, in which you can comfortably sit in separate cabins, have a drink, sit on the couch, tea with sweets. And even with a hookah. Khan Saray is considered the most beautiful palace and museum of the city. In combination – his calling card. Taking pictures inside cannot be categorical. This is strictly monitored. Log in there paid. But, to be honest, I didn't like it enough to understand why there are bans on photography. I did not see anything so unusual there. I think that you can visit "for the show."

If you are hitchhiking from Sheki to Baku, then keep in mind that there are two roads to Baku. One – through Gabala, the other – through Turan. Signs lead along the route through Turan, but this road is, and there is less traffic to Baku. The mainstream goes through Gabala, more shortly.

Two kilometers from Sheki is the village of Kish. It houses the oldest church in Azerbaijan (and, perhaps, in the entire Caucasus).

When visiting a public toilet, do not be surprised when you do not see the letters M and F that are familiar from childhood. Or, in the Latin version, M and F. In Azerbaijan, the letters K and Q are used for this. So that you do not fall into a stupor at the wrong moment, remember that the letter K is "male" and Q is "female."
Beaches of Azerbaijan
Comfortably settled on the shores of the Caspian Sea, Azerbaijan is an excellent place for beach relaxation. You can relax for glory even in the capital, more precisely, in the neighboring villages that are part of the Baku agglomeration. The coast is sandy, the entrance to the water is safe, without sharp fluctuations in depth. Famous beaches are scattered throughout the Absheron peninsula, the most popular in Novkhani: on Palm Beach, Barbados Beach, Sahil Beach, and Crescent Beach there are showers, toilets, umbrellas, changing rooms and a whole range of entertainment on any taste.
Entrance to most Baku beaches is paid: from 15 AZN.
Excellent beaches are also found in Lenkoran: the coastal zone is covered with beautiful black sand, which has healing properties. There are many sanatoriums here that use water from the surrounding thermal springs in their programs, and also a chain of cafes, clubs, and bars for lovers of noisy parties. In Sumgait, at once, there are 20 beaches covered with small shells that have been white-washed in the sun. The infrastructure is well developed: there are no problems with changing cabins, sun beds, umbrellas, and water activities.
And the last things you should absolutely do in Azerbaijan:
Take the Baku acropolis by storm and climb the Maiden's Tower, with which the romantic legend is connected.
Ask for a visit to a local grandmother and try real Azerbaijani home-cooked food – after all, Azerbaijanis are so famous for their hospitality!

To buy a traditional oriental carpet in the Baku market, made in the best traditions of Azerbaijani carpet weaving, without forgetting to bargain for the best price.

Dip in a Naphthalan bath and feel reborn.

Leave your mark on one of the cobbled streets of Ganja, which were used by Katran Tabrizi, Abul-Ula, Feleki, Khagani, Mehseti and other "stars" of the Azerbaijani Renaissance.